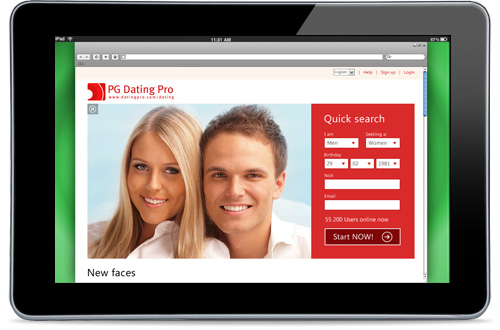 Las Vegas, Nevada, December 2, 2011 – Executives at the DatingPro Software Company today announced the release of the new PG Dating Pro January 2012 software. The dating software empowers webmasters to start their own dating site with a few clicks of the mouse. The Dating Pro software has been recognized and rated as the best dating software and scripts available online because of their powerful turnkey quality dating software and easy setup.
The new dating software has been updated with added functionality and several new template designs for the romantic, marriage, flirt (3 templates) and for niches. It also features a new administration panel design which makes it easier to change any of the usability adjustments. A few of the other features on the new PG Dating site builder January 2012 include:
Possibility to add comments for photos.
SEO module – further development. Adjustments for Blogs & Tags.
Multi-language engine for RSS channels in horoscope is to admin mode.
Possibility to send messages to a set of users with Mass mailing option
First profiles in search results – fixes to display logic.
Possibility to upload songs for e-cards in midi format.
Show warning when deleting a contact in IM.
Special engine to define time for your site on a server (if different).
Gift shop module updates: multi-language engine, search inside the shop, delivery address request form, gifts sub-categories, update the work logic.
Design editor's update with new template integration.
New banner spaces are added at a site (to the left, at the top). New sizes.
Carousel at a site – paid service to show off user's profile.
Show special status for unapproved uploads – "waiting for approve".
Option to show "Online now" section in your index page.
The software is an excellent choice for webmasters and web developers who want to start a dating site or create special niche dating and social networking websites. The PG Dating Pro January 2012 software also offers extensive documentation and technical support which will help webmasters learn the features and learn how to best establish a dating website.
What sets the Dating Pro software company apart from the other dating software developers is their free technical support which has been rated as extremely helpful and pretty quick at helping clients troubleshoot and repair issues in a timely manner. The company's commitment to supporting its webmasters and to help them succeed goes above and beyond any other dating software company.