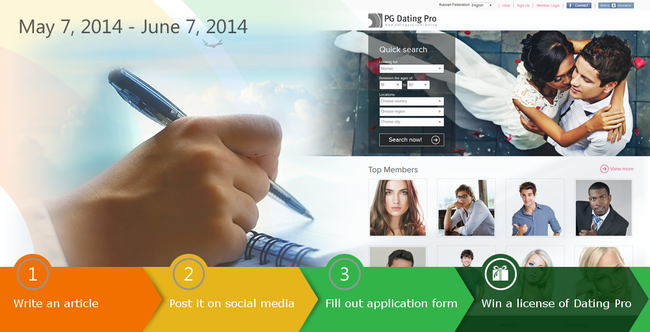 Dating Pro team announces a stories contest dedicated to online dating business.
The contest starts on May 7, 2014 and will last through June 7, 2014. The contest prize is an extended open source license of PG Dating software with extra add-ons.
To take part in the competition, contestants should to write an article and post it on one of the following social media sites: Facebook, Twitter, VK.com, Pinterest, Google+. The article may describe experiences of an aspiring dating website owner, or an online dater, or any other relevant topic.
Certain key phrases ('#pgdating', 'PG Dating Pro software') and the link to Dating Pro website (datingpro.com) should be mentioned in the article. Then, the author should submit their contact details and the link to the post via application form on page http://www.datingpro.com/promo/
The jury consisting of PilotGroup.NET's product development and marketing team will select the best article and announce the winner on June 10, 2014.
Advantages of the PG Dating Pro Open source Plus:
lifetime license;
open source code;
extra add-ons including mobile apps;
free design themes;
free re-branding opportunity;
free professional support;
free updates for 1 year.
What is more, dedicated support team will help to install the site and do basic SEO configuration for no extra cost.
Taking part in this contest is a risk-free and easy way to win a ready-to-use dating site software and to launch a real dating site with minimum cost and efforts.
You may also like: