Archive for the 'Real estate news' Category
Exactly 1 year ago PilotGroup.NET company started an online community for PG Real Estate users. There are more than 300 active members, more than 400 improvements shared, more than 100 improvements implemented. Nice stats, good results!
A new April 2012 version of PG Real Estate is the result of improvements mainly based on community members' comments. Most important improvements and difficulties faced when using the renewed web-site make part of the new version. They are:
"All listings from this member" page is improved;
Listing description on map is updated;
JavaScript is used to load tabs on view listing page;
Message under "Listing provided by" doesn't contain any html code;
Property address is displayed in reverse order when language interface is switched to Russian;
"Max number of symbols in headline and comments" limitation works properly;
"About buyer/tenant" section is restored;
Uploading images to information pages is corrected;
Correct currency, measure and price per measure are displayed;
Photo gallery became more flexible;
Information pages have a proper path;
Small misspellings and typos are corrected;
Site layout doesn't glitch in IE 7;
"Refine search" mechanism is adjusted;
Property listings can be filtered before export;
…and others.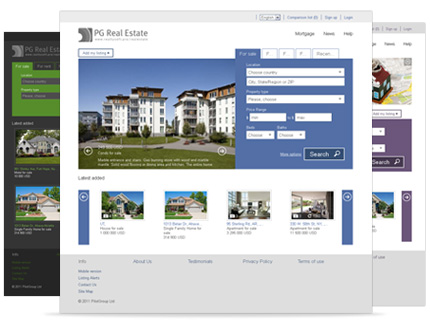 New  real estate cms features will significantly improve your real estate web-site:
Site colors management – creating completely new color themes. All site colors and styles are at your hand, no programming skills are required.
Mobile module update – new layout and improved navigation;
RTL support;
3 new languages – Spanish, French, Turkish;
Mortgage module uninstall;
Google translate API update to V2;
Google Maps API update to V3;
Option to edit width and height of site and mobile version logos;
New CAPTCHA;
Number of unread messages in user menu;
… and various under-the-hood improvements.
According to the tradition PilotGroup.NET thanks those who contributed to the improvement of PG Real Estate this time.
Update your site  to latest version of PG Real Estate now http://www.realtysoft.pro/realestate!