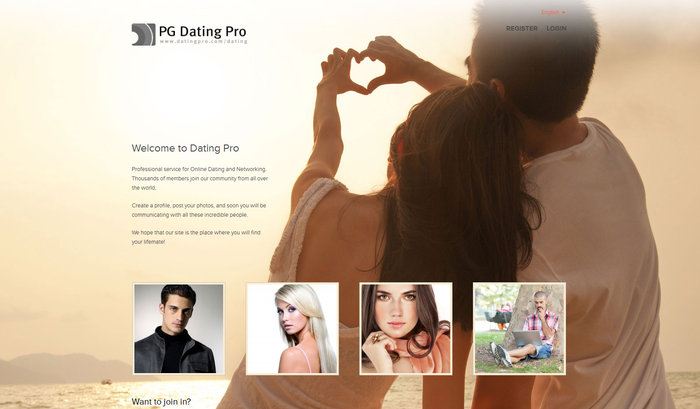 The Dating Pro team has updated their dating site builder and welcomes everyone to review Dating Pro Flirt script, version 2015.6.
The new release comes just two months after PG Dating Pro was named the Best Dating Software Provider at iDate Awards in Las Vegas.
Kristina Antipova, the spokesperson for Dating Pro, says that she would especially like to draw attention to the two of the new modules: LikeMe and Nearest Users.
LikeMe is a Tinder-like feature that adds the element of a game to the site and lets people do what they enjoy doing: scroll through photos and rate other site members by liking or skipping them.
The Nearest Users module makes it possible to search for dating site members on an interactive map. It is a convenient tool for those who want to find matches nearby.
"Both options are nice-to-have on any dating website because they are entertaining and completely correspond with the image of online dating in everyone's mind," Ms. Antipova adds.
Apart from these two, three other stand-alone modules have been released with the latest version of the Dating Pro script.

Do you like play games? If your answer is yes we have for you special category dating websites for gamers. Use this sites to meet with people, which also like to play in computer games. One of the best gamer dating site is GamerDating.com. This site has small community of gamers. All members on GamerDating.com are really fan of computer games.

A module called Memberships combines paid site services into memberships with unique names, prices and activity periods, providing yet another way to earn with the dating site.
Associations is a good-natured add-on that can serve as an icebreaker and help site members to start the actual conversation after comparing each other to different objects. The photos of the objects are uploaded by the site administrator.
Incomplete Signup is a useful tool that collects info about people who tried to sign up on a dating site and failed. This info can be used to get in contact with such people and see if they need help signing up.
The Video Background Theme is a new development that is equally worth being mentioned. It is one of Dating Pro's first steps down the responsive road, and it can serve as a basis for a customer's own video theme.
PG Dating Pro offers mobile apps for iOS and Android platforms as extra add-ons. Both the mobile version and the apps are assigned exclusively to the owner's dating website and can be completely rebranded.
The next important group of improvements involves both the mobile version of the dating site and its mobile apps:
- Site members can now like and report photos and videos.
- There is a convenient way to switch from the mobile version to the desktop site version.
- Site visitors who use Android- or iOS-powered devices can download and install applications from Google Play or the App Store the first time they visit the dating site.
Test new features at http://demo.datingpro.com/ now!